March 2022
---
Dr. Sara Buhmaid
Dr. Sara Buhmaid never thought she would become a doctor. As a student in high school, she contemplated many different careers, finally settling on architecture. It was only when her father suggested she apply to medicine that she realised her true passion.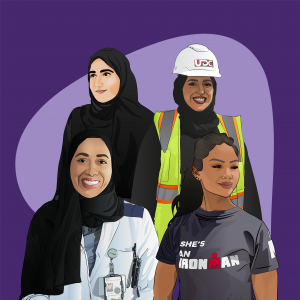 Now an Attending Physician in the department of Obstetrics and Gynaecology at Qatar Foundation's Sidra Medicine, Dr. Sara studied medicine at Weill Cornell Medicine – Qatar (WCM-Q), a Qatar Foundation partner university. Dr. Sara naturally returned to Sidra Medicine after completing her Residency programme in the United States. Her story demonstrates the commitment of Qatar Foundation to furthering both the education and career of those within their community.
She began her OB-GYN journey during her clinical rotations. "I thought I was going to be a paediatrician or a dermatologist, do something super light. But then I fell in love with surgery and that's how I ultimately ended up doing what I do and being who I am," she says.
One of the highlights of Dr. Sara's job is helping women to feel empowered during their experience of pregnancy and childbirth. She views her role with her patients as a "facilitator" who is there to facilitate their experience with guidance, options and knowledge.
"What gives me joy and I'll walk out of work two inches taller, is when I help a patient or a mother or a woman through her pregnancy and delivery journey, help her get to the best outcome possible," Dr. Sara says. "And when it's a happy outcome, that makes me so proud. My heart swells with pride".
In honour of International Women's Day, Dr. Sara recognises the opportunity to celebrate women every day through little ways. "Maybe it's the nature of what I do, I see women doing incredible things every single day. Every single day for me is a day to celebrate women," Dr. Sara says.
When it comes to who Dr. Sara's role model is, the answer is simple: her patients. "I'm lucky I get to meet my role models every single day. They have different faces, different backgrounds, different stories but they're all my role models," she says.
Dr. Sara's passion for her patients is clear as day. Her dedication to them serves as an inspiration to all. "It's a privilege doing what I do. It has been a privilege to be able to be a small part in someone's story into motherhood," Dr. Sara says.