March 2021
---
Mubarak Shannan Zayid
Mubarak Shannan Zayid started playing tennis when he was only six years old. Nineteen years of training later, he is now a player on the Qatari national tennis team and has played in major tournaments around the world.
Mubarak recently competed in the 2021 Qatar ExxonMobil Open alongside some of the best players in the game, including Roger Federer.
"It's a dream for any Qatari player to play this tournament. I was very happy to be chosen for this opportunity and to compete against very high-level players".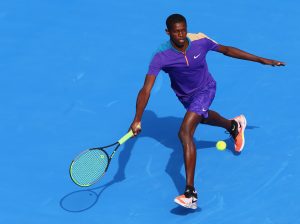 Mubarak found his passion for tennis by watching his older brother Mousa play, working tirelessly until he made it to the national team. "This is when I realised that I love playing this sport and need to pursue it as a career," he said.
Mubarak felt a tremendous amount of support from his country during the tournament, as one of the only Qatari players. "My fellow players and the community of Qatar have always been supportive of me," says Mubarak. "We're very lucky to have the Qatar Tennis Federation supporting us".
The future of tennis in Qatar is bright, according to Mubarak. QTF's Smash Tennis Academy offers extensive tennis programmes for people of all abilities to learn the sport. "I think tennis is growing really fast in Qatar. More players are entering the sport; more events are hosted in Doha, so even more people get to know the sport".
"Every year, we have new top ten players coming to our tournaments. Many players are recognising Qatar as the main destination to play tennis".
Mubarak's personal targets for the future see him continuing to pursue greatness in tennis. "My goal is to be in the top 500. Hopefully I'll be able to achieve this dream".
View this post on Instagram