October 2021
---
M7
Qatar Museums' M7 is Doha's newest epicentre for innovation and entrepreneurship in fashion, design, and technology. Located in the heart of Msheireb Downtown Doha, M7 is dedicated to developing Qatari talent through expert mentorships and connecting local innovators with influential creatives from around the world. Q Life profiled M7 to learn more about their creative endeavours.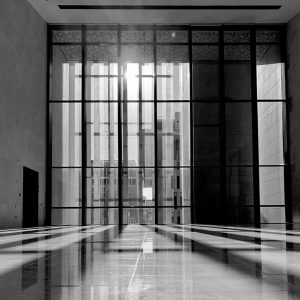 What was the inspiration behind founding M7?
Qatar is not short of talent, we have many designers that cannot evolve because of the lack of a creative ecosystem. M7 is built on the notion that it would create a healthy and vibrant creative ecosystem and environment for those talents. It was clear that creatives needed the right infrastructure to grow and be able to be sustainable. M7 is part of many efforts to build a creative economy and create a thriving creative scene in Qatar.
How is M7 benefiting the creative industry within Qatar?
Our goal is to bring together designers, creatives, and support organisations all under one roof to create an environment that is conducive to creativity and innovation.  We see our role as encouraging collaboration, creating opportunities, showcasing talent and providing inspiration through our exhibitions. We link designers with industry leaders and help develop this thriving network.
What were some of your most notable collaborations?
We have different levels of collaborations – our Resident Partners include Qatar Development Bank who run the incubator Scale 7, Workinton who run the co-working space, Tariq Al Jaidah through Studio 7, the concept store.  We also have educational partners our current partners are Virginia Commonwealth University in Qatar, Ibtechar, Doha Film Institute, and Caravane.  We also work with local designers and creatives.
Can you talk us through one of your success stories at M7?
Ghada Al Subeay – a local designer who created her own brand, started to support other local designers, and created a community through her work. She has now established The Cutting Studio to take that concept further and continue to use her experience to support other designers.
Describe your partnership with Fashion Trust Arabia.
As M7 starts to establish itself, we see Fashion Trust Arabia (FTA) as our regional partner in the fashion industry.  We gain a lot of expertise from the team and their network.  FTA this year will take place at M7 and we are very excited about that and involving our local community.  We would like more Qataris to participate and facilitate communications with our local audience to better understand and gain confidence in order to be part of the regional scene.
How does M7 mould influential and unique industry professional?
When M7 was established, we really thought about the designers' journey and the different stages they may go through and their unique needs. Through our programming and along with our partners, we provide opportunities for young professionals to take their talents further, to think about the business aspect and how they can be sustainable.
What does the future hold for M7?
It is a very exciting time for M7 and for the creative economy. We have no doubt that we will continue to see this industry grow and evolve. We are very excited about seeing brands incubated and growing out of M7.