June 2017
---
Over the past decade, Qatar Exoplanet Survey (QES) has made significant discoveries in the fields of space exploration and research
Founded by the Qatar National Research Fund (QNRF), QES uses innovative space exploration technology to expand the known universe and discover new exoplanets – planets that orbit stars other than the sun.
In 2010, QES' base in New Mexico discovered a new exoplanet, named Qatar-1b. This was followed by a second exoplanet in 2011 and as of 2017, QES has identified five previously undiscovered exoplanets.
In addition to helping humanity charter the universe, Qatar is also pursuing advances in the field of space monitoring. This includes launching Qatar's first independently operated satellite in 2013, Es'hail 1. This satellite was the first step in a mission to develop a sustainable national satellite industry, and Es'hail 2 is expected to launch in 2018.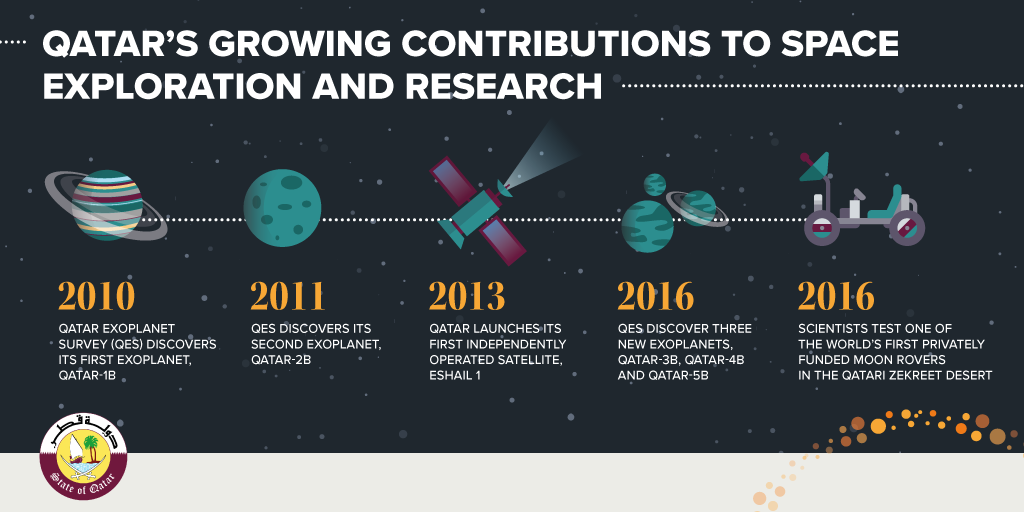 Closer to earth, Qatar has also opened up its unique terrain for testing innovative space exploration technology. The terrain of the Zekreet Desert resembles in many respects that of the moon, and Qatar recently welcomed scientists to trial one of the world's first privately-owned moon rovers.
As scientists across the world continue to push further into the unknown, Qatar is determined to play its part and be a driver for progress and discovery in the field of space research.