June 2019
---
#Myvision: Fahad Al Obaidly
Fahad Al Obaidly is a fashion designer, artist, and creative. He explains the language of creativity and his mission to promote design in Qatar.
To Fahad Al Obaidly, the delicate shimmer of silk forever evokes his mother.
The artist, designer, and filmmaker paints a vivid picture of a mesmerising woman seen through the eyes of a small child. "The inspiration behind what I do is my mother," he says. "She would watch old Hollywood movies on the black and white TV, observe their clothes closely and sketch them, to then recreate the designs for herself.
"She idolised those screen stars, their confidence. She loved layers, and she wanted to express her femininity through her clothes. She loved silk because of how it made her feel as a woman. Fashion brought the femininity she had maybe lost through being a mother and career woman."
These early lessons were the start of an extraordinary journey for Fahad. This journey has taken him through the fashion of the Ottomans, to the couture workshops of Milan, and the streets of Paris – and back to Qatar.
He explains: "I've always been interested in textiles. Early on, I did a project on Ottoman culture and how it informs Western design. I knew immediately this was what I wanted to do in life.
"My grandma told me: 'Don't do something because you can do it, but because you need to do it. That need will fuel you.'"
Fahad – whose three sisters are all artists – spent six years in Montenegro, Serbia, Macedonia, and Turkey, then Paris and Milan, where he studied.
"In Milan, they allowed me to go backstage and into the studios," he says. "I learned fine tailoring skills. No one can compete with the Italians. It was a wonderful foundation."
He returned to Qatar to design. "I specialise in menswear," he says. "There are lots of men designing for women, but in this region, none designing for men.
"I want to make pieces that are part of your skin, soul, and identity. In Qatar, we love quality, with minimal designs made from high-end fabrics – and the finish needs to be perfect. Cashmere gives us that feeling."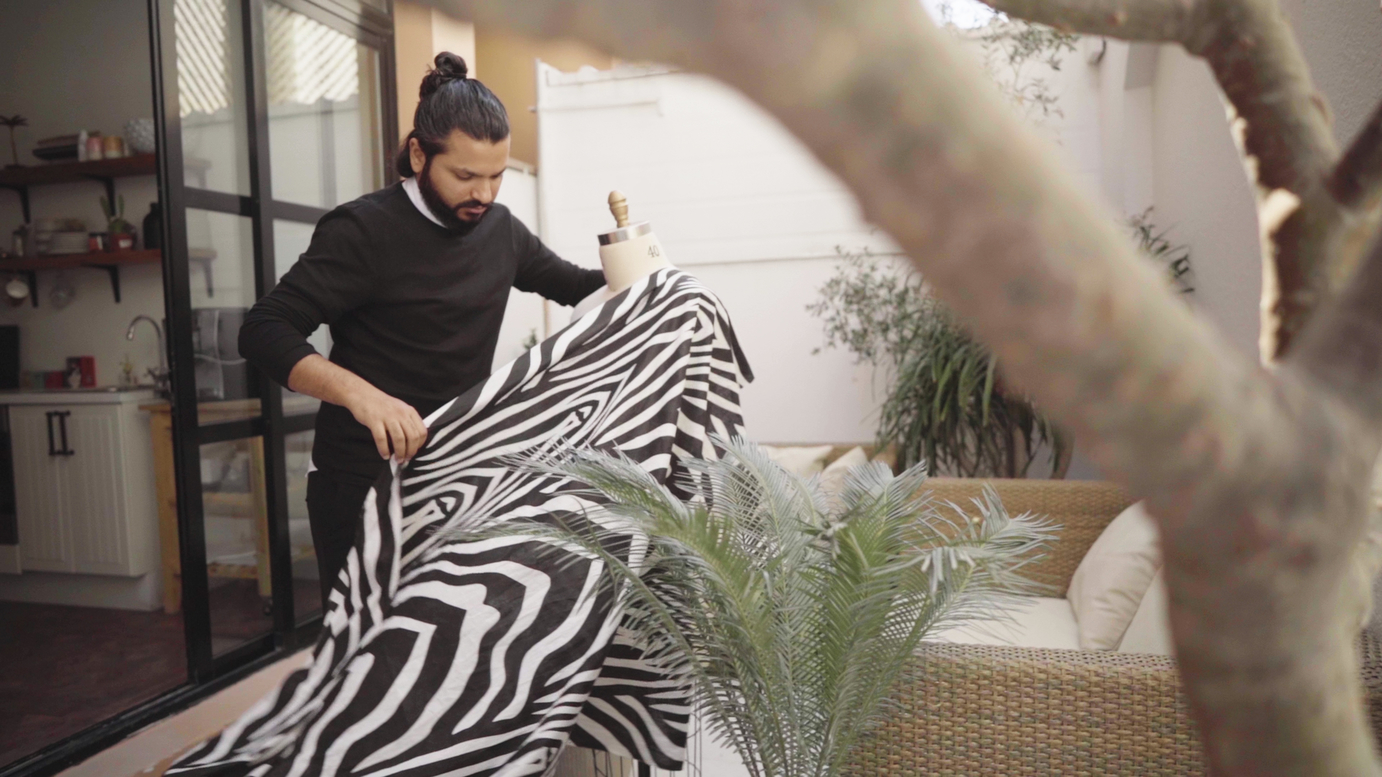 A residency at Doha Fire Station and a course in storytelling at the Doha Film Institute have both helped him to develop his skills.
"Clothing is all about storytelling," he says. "Every day when you open your wardrobe, you choose how people perceive you. You see it is a random act, but actually, it is not. You choose clothes that represent the voice you want that day.
"Why am I dressing up? Who do I want to impress? Who am I? Your clothes give you cultural identity and status."
He road-tests his designs in Doha's coffee shops. "Qataris love coffee shops," he says, "so that is where I do market research. I am a human mannequin, wearing my designs. People come and talk to me about them, and I find out what they like and what they don't."
"Fashion is always changing, but I keep my eye on my customers. I have never challenged people's right to be traditional."
Fahad founded the Qatar Fashion Society and runs a fashion incubator. "Designers come with their ideas, we help them to work out a business plan," he says.
He has curated eleven art exhibits and now has over ten years of experience in fashion entrepreneurship, which he is keen to pass on.
He supports applicants of Fashion Trust Arabia, founded by Her Highness Sheikha Moza bint Nasser, which took place in Spring 2019 at Msheireb Museums and Doha Fire Station in the presence of world-renowned designers including Victoria Beckham.
Fahad explains: "Qatar is the biggest consumer in the luxury segment in fashion and now we want to produce here."
Some 22 students graduate annually in fashion from Virginia Commonwealth University School of Arts in Qatar. These students need support upon leaving university, he explains. "While the school provides the know-how and design theory, when it comes to the business side of fashion, students are not equipped.
"We help them by matching them with production houses, public relations agencies, retailers, and department stores."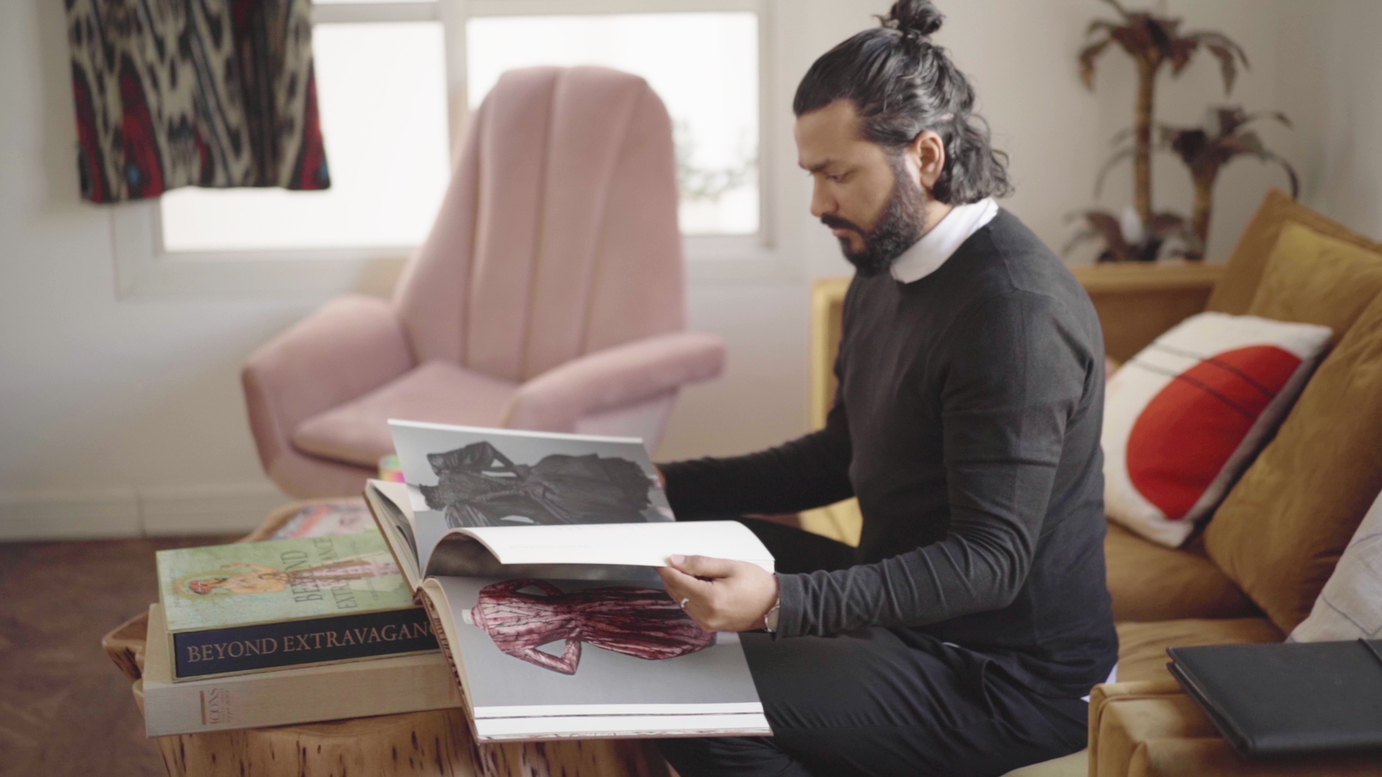 Personally, Fahad wants to continue promoting design in Qatar. His latest collection is inspired by the architecture of Doha. "The stripes represent Qatar National Library," he says. "Driving around Qatar and taking photos inspires me and makes me proud.
"The process starts in my head, with mood boards and photos. I take elements I like and sketch them, then I select the fabrics and start designing."
Pointing to a rail of beautiful, unique pieces, he says: "There is always a message, sometimes it is hidden between the lines. Is it the white taking over the blue, or is it the other way around?"
It has been a long road, and Fahad of course credits his mother with his success. "She was a powerful goddess mother," he says. "Now, she says to me: you are my success story."