December 2020
---
The Supreme Committee for Delivery & Legacy is committed to making FIFA World Cup Qatar 2022 the most accessible and inclusive edition in the tournament's history. These people-focused values are reflected in the sensory rooms at Al Janoub Stadium and Khalifa International Stadium, designed to provide calming environments for those with special needs during noisy and crowded matchdays.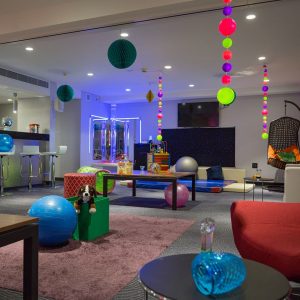 These rooms were designed in partnership with the Ontario Centre for Special Education (OCSE), which proudly supports efforts to build facilities that support the development of an inclusive and aware society.
Mariam Al Rashdi, founder of the OCSE, was inspired by the work of the Supreme Committee's Accessibility Forum and was moved to donate resources from the OCSE's sensory room for the pilot project at the Khalifa International Stadium.
"An environment was required which can help those with additional needs to cope with the excitement and stimulation happening at a football game," she said. "This sensory room was never a FIFA requirement; it was Qatar saying that we have thought about people with cognitive disabilities who require extra support to watch football."
These sensory rooms are fitted with an array of calming equipment, including bubble tubes, beanbags, ball pens and ceiling projections, as well as soft furnishings, mood lighting and noise-cancellation technology. These features allow for those with disabilities, as well as their families and friends, to enjoy football matches in a welcoming, inclusive and calming environment.
These rooms are just one of the initiatives in place to cater for people with both physical disabilities and cognitive disabilities. The Supreme Committee and its stakeholders are committed to prioritising and championing accessibility in 2022, and beyond.