March 2023
---
Leading the Way for Disability Activism
Nawaal Akram dreams big.
After being diagnosed with Duchenne muscular dystrophy at the age of 6, Nawaal was forced to leave her formal education behind at age 10 when her school did not accommodate her. Nawaal's desire to grow, learn and make an impact within her community – and around the world – nevertheless remained limitless. Her ambition propelled her to explore new paths, meet people from all walks of life, and achieve milestones she never thought would be within her reach.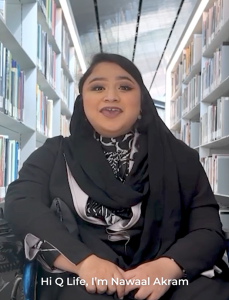 Now at 24, Nawaal is a proud disability rights activist, producer and consultant. She is also proudly back in school, pursuing her educational journey at Awsaj Academy.
"Continuing my education has given me the possibility to look at what I can do in the future, advance the skills that I already have and possibly use this knowledge to create a better world".
With the support of her parents, Nawaal felt empowered to use her voice to speak up, guided by the ambition of pushing for universal access and education for all children with disabilities.
"We still have so much to do and so far to go to make sure that every child or young adult with a disability is able to receive education like I do now," Nawaal acknowledges. "For me to be able to do that important work, it starts with first receiving my diploma; and I'm almost there".
When asked about her greatest accomplishment, Nawaal highlights the support she is able to provide to other children and parents who are facing circumstances similar to those of her past. "To give their parents the support my parents didn't have, to create a community for them where they can find safe spaces and feel represented: for me, that makes me feel accomplished".
Dedicated to her community, Nawaal feels uplifted by the women that surround her on a daily basis. "I think I've come this far not just by myself, but by women in everyday life: whether it's professors, my mother, or role models that have really helped me shape the way I want my future to be". To give back, Nawaal founded Equal Access, a community programme to mentor global youth about how to advance disability rights and garner support.
Nawaal's dreams for the future are as big as her ambitions were as a young girl. "I hope that I'm able to promote disability diplomacy. It is very important that we encourage nations around the world to cooperate with each other over disability rights and how to advance them".