September 2021
---
Heenat Salma Farm
The Heenat Salma Farm is a multidisciplinary project at the heart of Qatar dedicated to holistic methods in agriculture, architecture, and community development. By transforming a local traditional farm into an organic permaculture centre growing desert-friendly plants and vegetables, the team are supporting the development of Qatar's renewable, home-grown food supply. Q Life interviewed the people behind the farm to learn more about their vision for a sustainable future.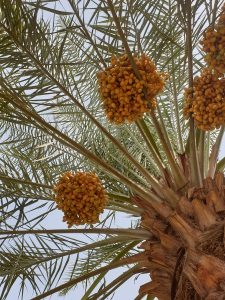 What was the inspiration to found the Heenat Salma Farm?
The fast-paced development of Qatar is a remarkable feat, showing the potential for an arid nation to adapt to the harsh environment in which it finds itself. Qatar is home to millions of people from all over the world, and with that comes the responsibility to ensure sustainability and resilience.
Heenat Salma Farm is not just a farm, but a community with multiple creative and well-being missions joined by a commitment to developing and inspiring resilience. We can drive change that powers meaningful action beyond our walls.
Tell us more about the regenerative agriculture methods at Heenat Salma Farm.
The farm practices regenerative agriculture, a practice of cultivating and maintaining vital soil. The holistic methods of Heenat Salma Farm offer an alternative model, allowing the farm to be fully sustained without the use of any chemicals.
The farm also practices simple techniques that bring animal waste, plant waste, and soil into a healthy relationship, ensuring every element promotes fertility. The production of natural manures, collected by using what is available at the farm, can potentially eliminate the dependence on chemical fertilizers, enabling the land to move towards a natural equilibrium.
What is the benefit of having a sustainable farm structure specifically in Qatar?
Our mission is to create an community for education and social engagement, spreading the values of permaculture and the philosophy of working with, rather than against, nature. The methods applied at the farm, the design of our products and services, as well as our philosophy, are all rooted in traditional knowledge and values.
This project is about shaping the mindset of future generations of Qatari people by raising awareness, promoting education, and spreading traditional values to a younger generation.
What are some of the produce being farmed at Heenat Salma Farm?
We currently grow 30 different crop varieties, including carrot, coriander, beetroot, parsley, tomato, eggplant, kohlrabi, broccoli, cauliflower, and capsicum (to name just a few). The farm now boasts a large variety of homegrown organic fruits, vegetables, dairy products, and eggs, and will soon feature naturally sourced honeys and meats.
What do you hope guests take away from their time at Heenat Salma Farm?
The spaces we design at Heenat Salma Farm positively influence and shape the way our guests feel. We design interiors that prioritize well-being; for example, we developed our lodges using traditional tents positioned around a central courtyard with a central fire. This feature creates a natural anchor that instils a sense of community and belonging on the outside, while the tent interiors provide simple, private, and refined dwellings.
We are seeing an enormous positive response to the atmosphere of Heenat Salma Farm and to the spaces that encourage them to live in the moment, rather than experiencing the world through the lens of their phone.
What are some of the elements of Qatari culture and traditions that are incorporated at Heenat Salma Farm?
Qatari tradition takes nature to be of divine value and thus must be treated with the reverence it deserves, since everything is imbued with the power of consciousness. The culture of reverence, respect and honesty are amongst the key Qatari values we are incorporating at Heenat Salma Farm.
What are some of the plans for the future of Heenat Salma Farm?
Our driving purpose is to empower communities and preserve legacies by reviving local artisanship, vernacular architecture, traditional agriculture, and holistic education. Through carefully designed curriculums, we intend to introduce a refreshed look on lifestyle, wellness, art, and culture to the communities with whom we work.
In 12-18 months, we plan to see school buses and family cars parked by the farm. We will be offering a truly unique service; an opportunity to learn while getting a first-hand experience of farming and gardening in a real working environment.