June 2019
---
Qatar Airways
The job with the best office in the world? Qatar Airways pilot Captain Khalid Hisamuddin Alikhan talks us through his life and experiences as a pilot – originally from India, Captain Alikhan trained in the US and now lives in Doha, traveling around the world. 
What do you do?
I work for Qatar Airways as a pilot. I spent two years in management and before that I was an instructor. Our crew come from all over the world – Japan, Korea, Europe, India, South America – Qatar Airways is a true multinational corporation, and so you become part of a big global family.
How is Qatar Airways different to other carriers?
The amount of thought and investment put into Qatar Airways is different to any other airline I've worked for. Our level of comfort as an operating crew is phenomenally high.
What do you like best about your job?
The view. It is probably the best office in the world. You can fly for twenty-five years and still never get tired of what you see out of the cockpit window. I like going to different parts of the world, but if you asked me to pick one destination, I would say Venice. It is a great place to visit because of the culture, history and people.
Which is your favourite airport?
The best airport in the world is Hamad International in Doha. It is not only a good airport, but the minute I touch down, I feel that I am home. I have lived in Qatar for ten years, with my family.
What inspired you to become a pilot?
When I was six or seven, I accompanied my grandfather on a business trip. It was extremely exciting. I was strapped into my seat, and the minute the pilot started the take-off, I was in love. The feeling of being pushed back into my seat, the acceleration – I was entranced.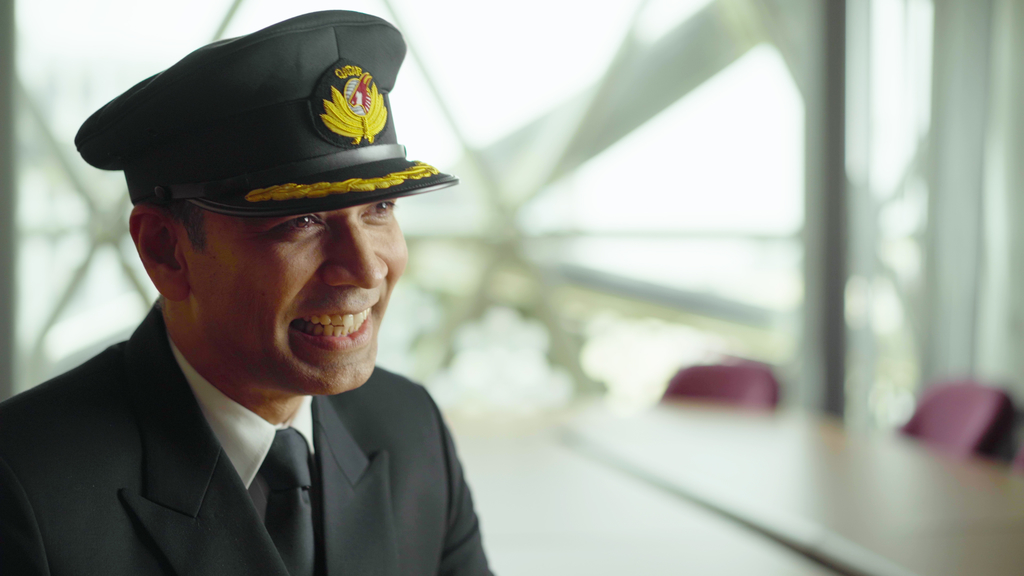 How did you become a pilot?
I was seventeen years old when I started flying. I trained in the US for my initial commercial pilot's licence. At that time, in the early nineties, Indian airlines were going private, and I joined one of those the first. I moved to several other Indian airlines before joining Qatar Airways.
What do you like best about living in Qatar?
The focus on education, healthcare, the things that would make a difference to a person's life – and a family life – that is what swung the decision for me. My absolute favourite thing about Doha is the people. It is home because of the people here. From the day I stepped out into Doha, I have never felt like an outsider. It is a welcoming, inclusive society, and I love that.
Are there any drawbacks to your lifestyle?
Most people think that pilots have an extremely glamorous life. It is glamorous, but people don't appreciate the amount of hard work that goes into flying. Studying and keeping in touch with advances, planning our rest patterns, making sure we stay healthy for our medicals – there is a lot of behind-the-scenes work. We also miss family birthdays and celebrations at times. It is a difficult life in some ways, but if you are willing to make those sacrifices, it is a wonderful life too.
This year is the Qatar-India Year of Culture – what can Qataris learn from Indians?
Attitude to life – we love life and love to celebrate. Everything in India is a reason to celebrate. There are so many Indians here in Doha that you can see all aspects of Indian life here.
I don't feel separated from home. For me this place is home. It has given my family and me a lot, in terms of what I have been able to provide for my children education-wise and a secure future. Now it is my turn to pay back, and give Qatar Airways my best for as long as I can.
What is your advice for aspiring pilots?
Pick your career path carefully. I have seen people pick an airline because they would rather be based in a particular place. You should pick an airline that will offer you career opportunities that will allow you to grow. Qatar Airways offers you the chance to fly the newest planes on the market. It offers you extraordinary opportunities. I've met people from countries I didn't know existed.