November 2020
---
Mohammed Al-Thani
On a river rafting trip in 2008 to Nepal, Mohammed Al-Thani was introduced to the beauty of the Himalayas Mountains. A lifelong adventure lover, Mohammed was entranced by the idea of one day summiting the highest peak in the world.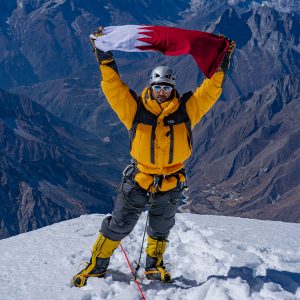 Five years later, Mohammed accomplished this dream and became the first Qatari man to summit Mount Everest. Since then, he has also gone on to climb the Seven Summits on the seven continents.
"Through my mountaineering, I show people that all dreams are possible. No matter how high they are, they just need a lot of action, planning, overcoming obstacles and there is no dreams that cannot be reached," he said.
Mohammed recently became the first Qatari to summit Nepal's Ama Damblam Mountain. "Ama Dablam, which means mother necklace, is one of the most beautiful mountains in the world and it is a mountain that took my breath away the first time I saw her in 2009," he said. However, the opportunity to climb it never presented itself before now.
Climbing mountains during a global pandemic brought along its own set of challenges. "I was thinking: I can stay here for one month or I can climb this mountain. I decided to climb just two weeks before when I usually always plan a climb 1 year in advance. However, within two weeks, I was on the mountain climbing".
From the onset, the possibility to even begin the climb was uncertain. "They told us that the mountain was closed and no one can climb. One day before we had to go, they allowed us. There was many challenges that happened before reaching or starting the climb," Mohammed said.
Despite the challenging circumstances, once on the mountain, nothing can bring down Mohammed's spirits. "Whenever I am in the mountains or climbing, I'm the freest," he said. Far from the noise and distraction of daily life, the only thing on his mind is reaching the top.
With climbing the Seven Summits already under his belt, Mohammed hopes to complete the Explorers Grand Slam by skiing to the North Pole in April 2021. "My journey to inspire others to reach their dreams and that is my purpose," he said.
For anyone interested in exploring the adventures of the outdoors, Mohammed recommends to just go for it. "There is a big adventure community in Doha; they just need to sign up," he said. "However, if people really want to step out of their comfort zone, then I highly advice climbing Kilimanjaro or trekking to Everest base camp. These two are an amazing starting adventure".