September 2020
---
The Education City Mosque is a modern spectacle.
For anyone driving through Qatar Foundation's (QF) Education City, you cannot help but notice the minarets that rise 90 metres into the sky, pointing straight towards Mecca. "For Education City, the mosque serves as a reference point. It is almost like a compass", describes Sulaiman Bah, Community Engagement and Outreach Coordinator for the Minaretein center (Education City Mosque) at QF.
"They don't look like your traditional lighthouse minarets", explains Sulaiman, noting that they have been designed as ribbons enveloping the entire building. With one end of the ribbon representing knowledge and the other representing light, "there are several points where these ribbons overlap and meet, creating common spaces like courtyards and gardens".
Having the capacity to hold 1,800 worshippers in the hall and another 1,000 in the exterior, the Education City Mosque serves as not only a daily prayer ground, but as a community mosque for the surrounding neighborhoods in the Al Rayyan area.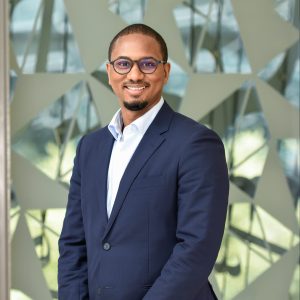 "It's a place of reflection", contemplates Sulaiman. "The building is one volume, it's one mass, but the mosque actually features the university and vice versa. They're inseparable. If you look at Islamic history, you will see there are so many other places where you have a combination of the 'madrassa system', where the mosque serves as the space for learning as well".
Before taking up his role at the mosque, Sulaiman was a graduate student in the building. "I've grown with the building and seen the many changes. When I came as a student, I was inspired by the fact that there is no other university in the world that has a mosque of this capacity".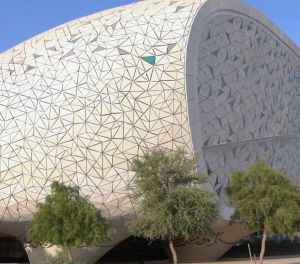 Having met the architects on multiple occasions, he's learned more about the thought process behind the mosque's creation. "They're actually a husband and wife team", Sulaiman recalls, "and when they got the offer to design a building that was at once a prayer space and also a learning space, they wanted to challenge people's historical conceptions of what those spaces look like".
The rising minarets, the built-in waterfall cascading in front of the prayer hall's main entrance, and five foundational columns representing the five pillars of Islam, are among the distinctive elements that have made the mosque such a breath-taking sight. "If you're an art lover, you may be attracted to the calligraphy and aesthetics. If you're into architecture, you'll be charmed by the fluidity of the building," Sulaiman reflects. "The building has a little something for everyone".
"I've always had the sense that people not only enjoy coming here because of the architecture, but because they feel that this is a place that cares about imparting knowledge and teachings".
Banner photo by Julien Lavergne.